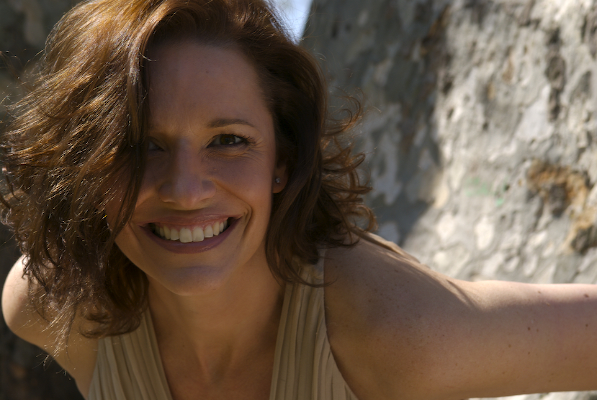 Soprano singer Miss Susie Georgiadis was born in Porto Alegre, Brazil from a Greek father and German mother, but she lives and works in Italy. She has both Italian and Brazilian nationalities.
This extraordinary cultural melting-pot allowed her to develop an extremely wide range of musical interest. An artist with a great interpretation sensitivity, a stage presence of magnetic effect spiced with a warm velvet voice. Her exquisite musicality allows quite an uncommon eclectic use of her voice. Indeed her repertoire encompasses different styles: from classic and contemporary operas to Viennese and Hungarian operettas. Miss Georgiadis is passionately involved with the  Brazilian classical  music of which she is a sophisticated interpreter.
After attending the Escola de Musica of the Porto Alegre Symphonic Orchestra (OSPA), she refined her studies with the great Brazilian soprano Neyde Thomas. While in Brazil, she won several national prizes; the second prize at Curitiba Opera Singer Contest, the first prize as best interpreter of Carlo Gomes's at the Radio MEC competition in Rio de Janeiro. She also won a study grant at the National Brazilian Opera Singer Contest (APARTES prize), that permitted her to continue her studies in Italy.
In Italy Miss Georgiadis performed in many opera houses: Ravenna (Theatre Dante Alighieri), Napoli (Theatre Vincenzo Bellini), Gardone Riviera (Theatre Vittoriale), Fiesole (Theatre Greco), Novara (Theatre Coccia), Bolzano (Municipal Theatre), Fidenza (Theatre Magnani), Pavia, (Theatre Fraschini), Aosta (Theatre Giacosa), Milano (Theatre Dal Verme), Carpi (Municipal Theatre), Perugia (Theatre Morlacchi), Sferisterio di Macerata, Vicenza (Municipal Theatre), Piacenza (Auditorium dei Teatini) ,Reggio Emilia ( Theatre Valli).
Outside Italy Miss Georgiadis performed in: Principate du Monaco in Montecarlo (Salle Garnier), Budapest (Opera House) in Hungary, Rotterdam (Theatre Luxor) in Netherlands, Toyota (City Concert Hall) in Japan, Porto Alegre (Theatre OSPA), Curitiba (Theatre Guaira), and Rio de Janeiro (Cecilia Meireles Hall).
She has worked with many important conductors both in Italy and abroad.
Miss Georgiadis performed several roles in various classic opera productions as Violetta Valèry in Giuseppe Verdi's La Traviata, Mimì in Giacomo Puccini's La Bohème, Donna Anna and Donna Elvira in Amadeus Mozart's Don Giovanni , Susanna in A. Mozart's Le Nozze di Figaro, Micaela and Fraschita in Bizet's Carmen, Pamina in A. Mozart's Die Zauberflote ,Euridice in C.W.Gluck's Orfeo ed Euridice, Desdemona in Giuseppe Verdi's Otello , Anna in Giacomo Puccini 's Le Villi.
Miss Georgiadis also covered major roles in contemporary operas as "O King" (Luciano Berio) , "Racconto di Natale " (Carlo Galante) and "Diario Polacco" (Luigi Nono). She has a long lasting cooperation with jazz pianist Umberto Petrin with whom she performed in "Beuys Voice" at Kunsthaus in Zurich (Switzerland).
She performed many first roles in operettas: La Bayadère, Die Csardas furstin, Grafin Maritza (E. Kalman), Die Lustige Witwe (F. Lehàr ), La Vie Parisienne , Orphée Aux Enfers (J. Offenbach).
Miss Georgiadis sang as soloist in Carmina Burana ( C. Orff) , Beethoven's Nineth Symphony, Monteverdi's I Vespri della Beata Vergine , Brahms' Deutsche Requiem, Mozart's Requiem, Faurè's Requiem, Vivaldi's Gloria, in Pergolesi's and Boccherini's Stabat Mater.
Miss Georgiadis' Brazilian repertoire encompasses classic authors like Heitor Villa –Lobos, Waldemar Henrique, Claudio Santoro, Guerra Peixe, Carlos Gomes, Chiquinha Gonzaga, Esther Scliar, Catarina Domenici and others. She recently recorded "Homage" a CD for the independent record label "Drama Musica" interpreting compositions by Brazilian and Italian women composers.  She also participated as guess artist in another recording of Brazilian music,"Reunião" with the Brazilian accordionist Renato Borghetti and the Italian jazz pianist Umberto Petrin.
Special Projects:
Recital "O Canto da Floresta" ( Forest's Song)
The work is inspired by the exuberant Brazilian Nature with the impenetrable and enchanted mystery of the Amazonan Forest.
Susie Georgiadis and Diego Mingolla interpreted composition by Waldemar Henrique, Heitor Villa-Lobos and Claudio Santoro, each of them in various way deeply linked to Nature and tradition: symbol of Brazilian Identity.
HOMAGE: The Homage CD is part of a series dedicaded to women composers – Drama Musica label.
Susie Georgiadis and Italian pianist Angiolina Sensale pay homage to their home countries and their women composers presenting a programme full of history, colours and musical richness. HOMAGE includes a few world première recordings by several historical composers as well as new works written by Brazilian composer Catarina Domenici.